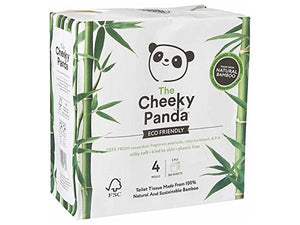 The Cheeky Panda Toilet Roll - It's time to make the swap!


Natural Source: Made from 100% Virgin Bamboo Pulp. Why is Bamboo awesome? Well, it's the fastest growing plant in the world and therefore extremely renweable. The Future is Bamboo!

Kind to Planet: Bamboo produces 65% less carbon emmisions than traditional tree paper production. AND our supply chain is totally Carbon Balanced. Glorious!

Save the trees: Use Bamboo to reduce deforestation and save animal habitats.

Soft and Kind to Skin: Our Toilet Paper is 3ply, Natural and Super Soft. Bamboo is also naturally hypoallergenic and therefore very kind to skin. It has smoother, longer fibres which trap less dust - perfect for sufferers of sensitive skin! No fertiliser, pesticides or other chemical nasties.

An everyday change can make the world of difference!
SPEND £25 AND SAVE 25 TREES