Every decision we make helps to support and protect People, Place and Planet.   Plastic pollution is one of the biggest contributors to climate change and as a society we must find ways to turn off the plastic tap and encourage more reuse. Food waste is also a major contributor to the climate crisis and shopping by weight can signicantly help you manage your own food waste. Every product we select is not only plastic free but often Organic and always from a source that values people and our planet's resources.
We believe in creating business for good.   Yes, we aim to make a profit as this is what will make us sustainable, but our profits are not made at the detrement of others.   We value and support local makers and food systems and believe in fairness and transparency with our employees, our customers and our supply chains.   We believe that as human beings our default setting is to be 'good'. We help others, are inclusive and have created a business that adds value to local communities.
We exist to help you shop for your groceries ethically and plastic free, by making it simpler and more accessible, and as we grow, more affordable too.   As our customer you are our main priority and we want to help you on your minimal waste journey. Whether you take large or small steps on this journey doesn't matter. Every step you take does make a difference.   Since we opened in 2019 you have saved over 1 million pieces of plastic from landfill.   Now that is amazing!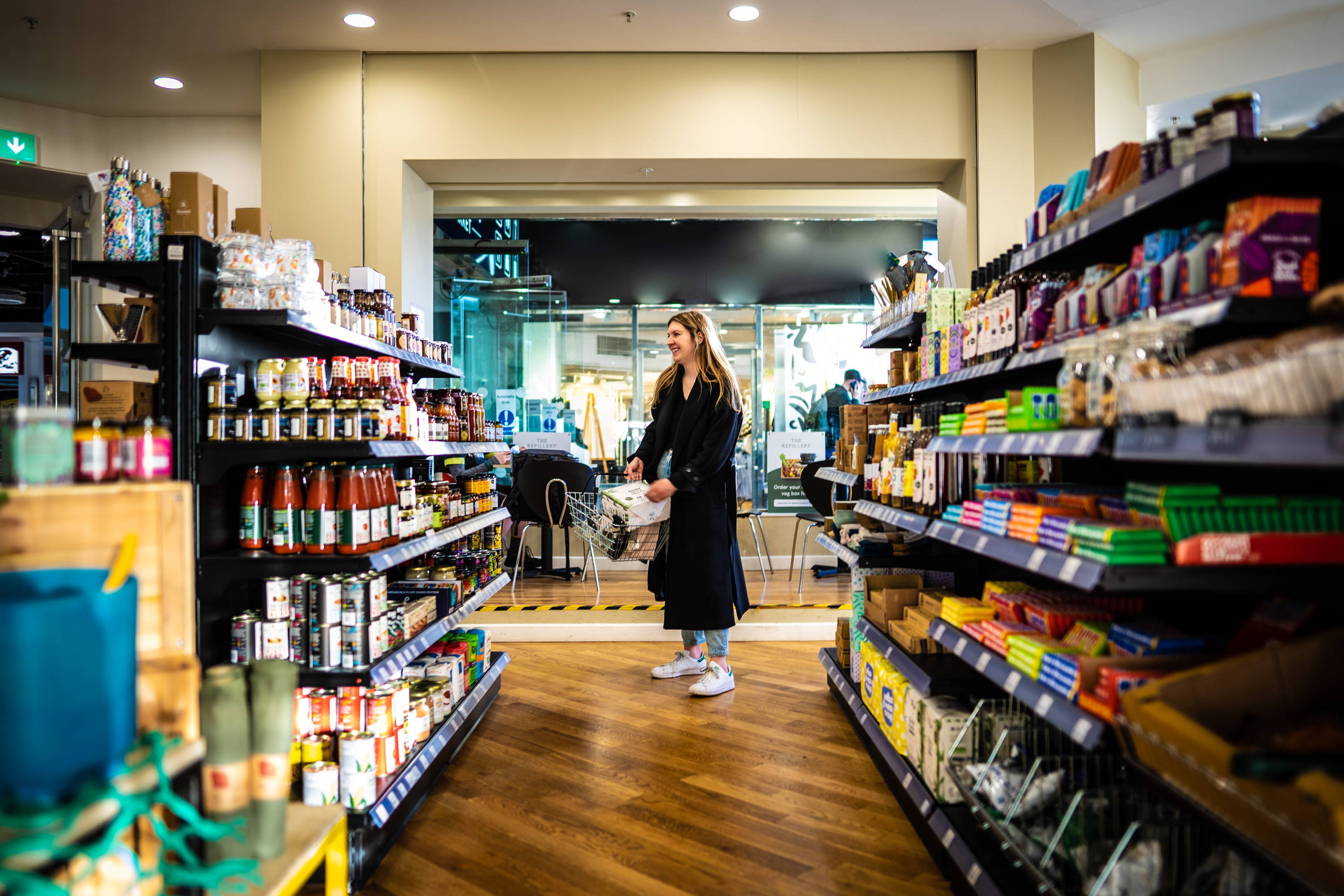 We have over 70 different dried wholefoods so meals will never be boring. Buy as much or as little as you like (if purchasing online these are bought per 100g). Discover our wide selection of herbs and spices, loose teas and fresh roasted coffee as well as delicious sweet treats and snacks. Or stock up on plastic free packaged grocery items, including unique locally sourced products.
We work with suppliers and manufacturers that share our values, that's why we work with Fill and Bio-D for all of our household detergents.   Both are embracing circular systems that elimate more plastic waste and both using only naturally derived ingredients.   Don't be fooled by their gentle planet friendly ingredients, these are also effective cleaners that do the job. Remember, everything we wash down the plug hole will end up in our water systems, leaching into nearby soil, rivers, lakes and eventually the ocean. Once there, they can cause all kinds of damage to the environment!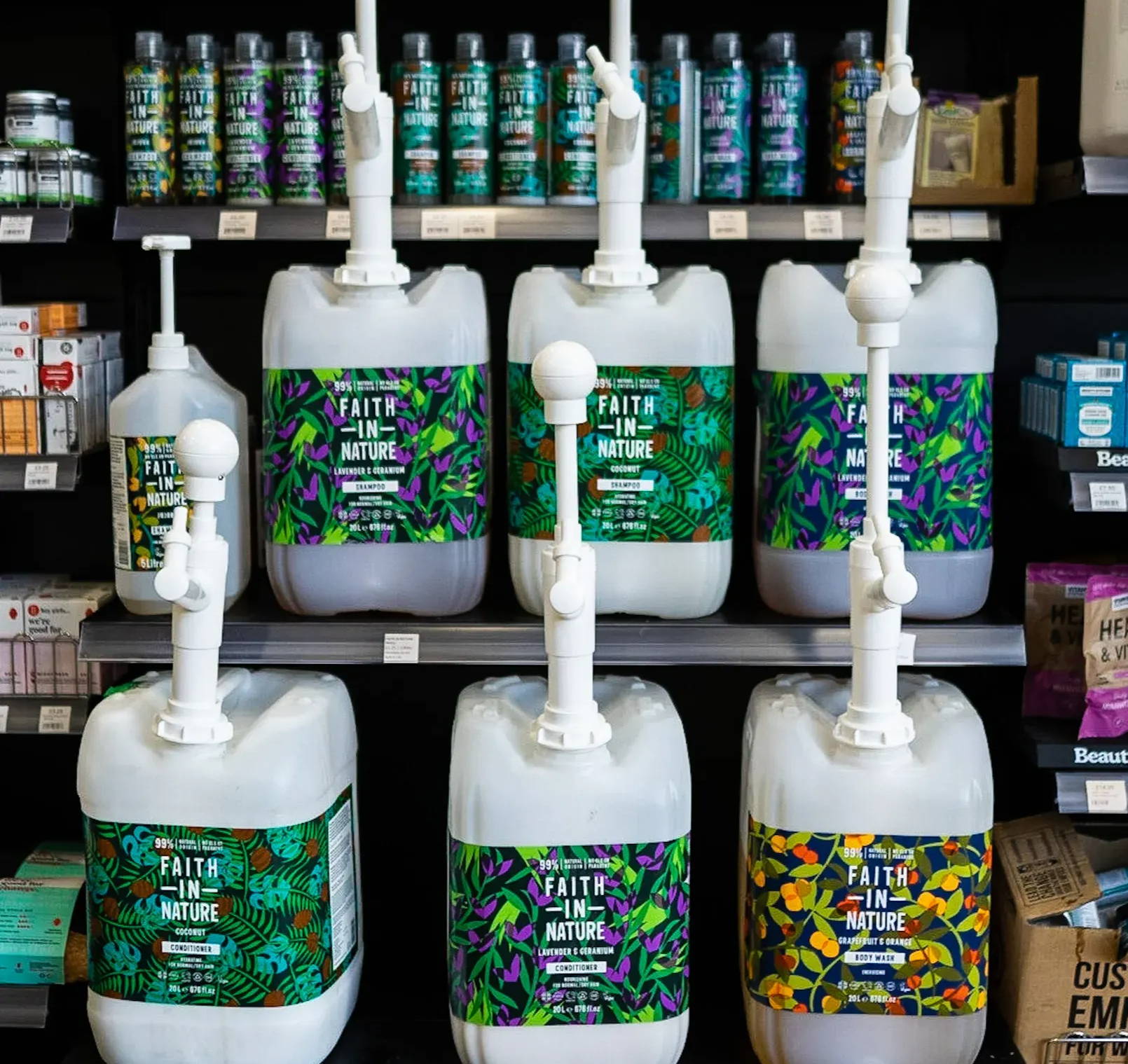 We have some of the best brands for you in our shops and online, including Faith In Nature, who have 'Nature' as a board member, and the brilliant Beauty Kitchen, whose packaging is fully returnable. We send them back to BK and they wash and reuse them.   If you think that's awesome we now have Beauty Kitchen refills at some of our shops too.
And not forgetting the amazing Hey Girls period products. For each one you buy they donate one so that period poverty can become a thing of the past.   They have donated 30 million in the UK!
We passionately believe in using what you have first, so no need to rush out and buy lots of Zero Waste accessories. When you are ready to replace old for new we have a great range of simple eco swops that will transform your minimal waste journey.  
Delivery is free if you spend over £50. We deliver anywhere in the UK by Royal Mail or DPD but sadly we cannot send any chilled or baked goods. Delivery is calculated at checkout and starts from £3.50. If you are local to one of our Edinburgh shops we offer local delivery within a 5 mile radius and your order is delivered by electric bike. Local delivery is £7.50 or free over £50. You can also collect in person from our shops in Edinburgh.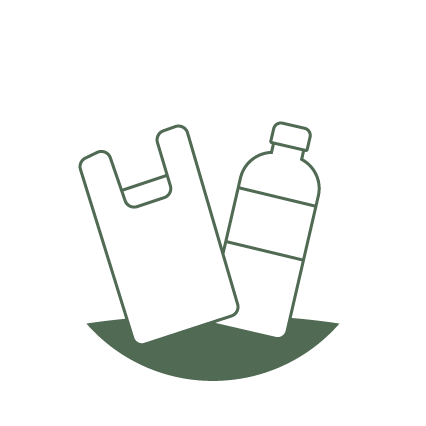 All dry loose goods are packaged in paper bags and secured with paper tape. Refill liquids can be purchased for delivery but you must also select an appropriate bottle or jar too. For click and collect you can simply bring in your own bottle and refill it when you collect the rest of your order.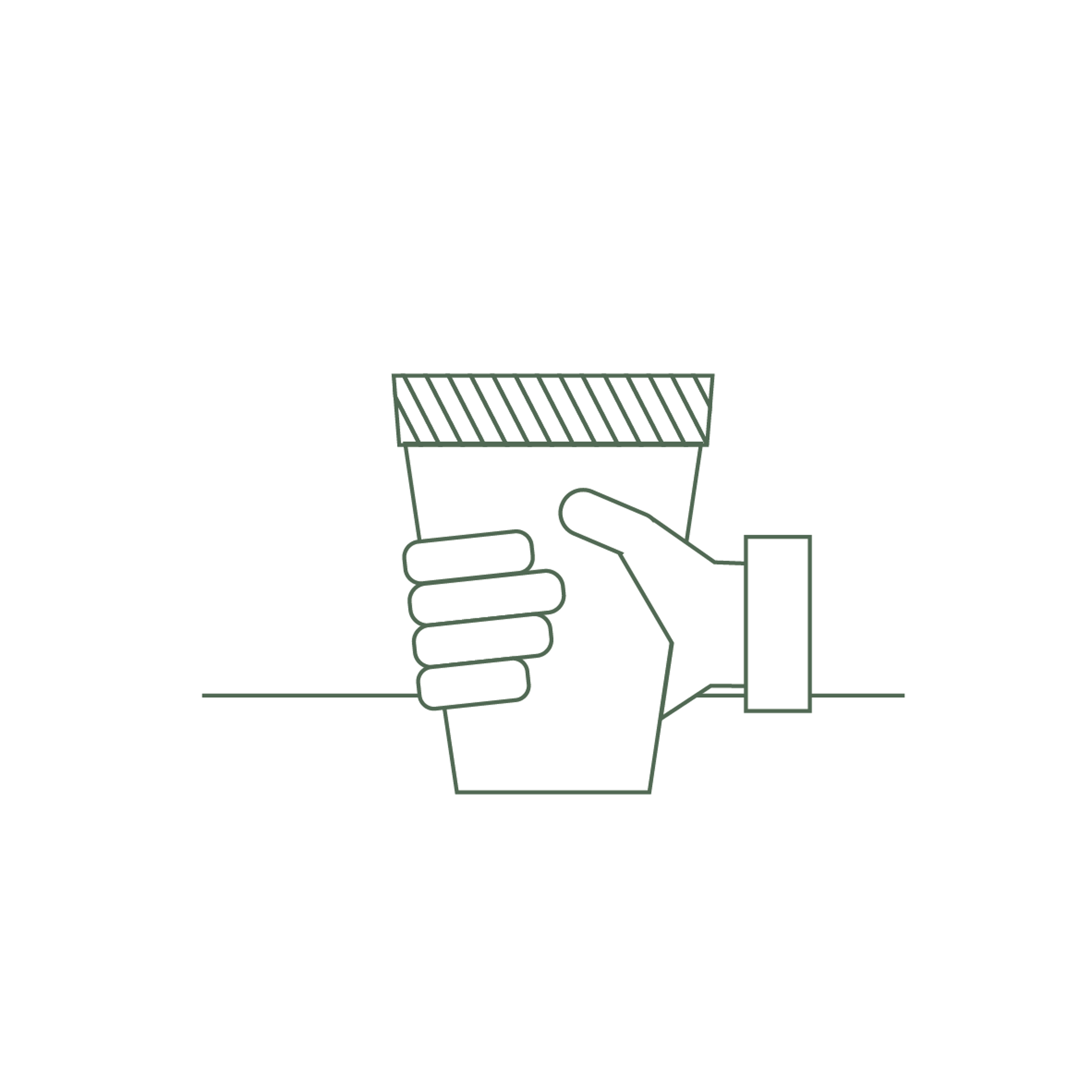 In the unlikely event that you are not happy with your products, please feel free to return them to us and we will refund you, no questions asked. Unfortunately as we are a small business we cannot cover the return postage sorry. Use our contact us page to tell us you are returning an item and why.