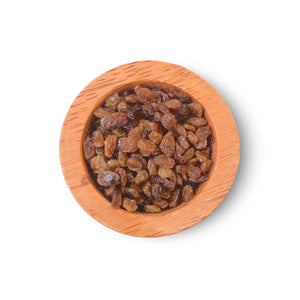 Ingredients: Organic Raisins (99.5%), Organic Sunflower Oil (0.5%).
May contain: Celery, Eggs, Gluten, Milk, Mustard, Nuts, Sesame, Soya, Sulphites, Lupin.
Origin: Turkey.
A Raisin is a dried white fleshed grape. They are sweet and juicy and very flavoursome. Great for a snack or adding to cereals, yoghurt, cakes or making chutney.
Totally!! They are rich in fibre, potassium, magnesium, iron and antioxidants.
Our organic raisins are grown in Turkey, who are the largest producer and exporter in the world. Organic raisins are grown naturally without the use of chemicals which is better for us and better for the planet 🌏
What are they packaged in?
You can buy them from us completely package free. We get them in bulk and they do unfortunately come with a plastic liner in the box to keep them protected and food safe. The majority of our waste is managed by @ChangeworksUK who ensure that everything that can be recycled is recycled and everything else is Energy from Waste (incineration).
FOR EARTH. FOR GOOD. FOR YOU
SPEND £25 AND SAVE 25 TREES