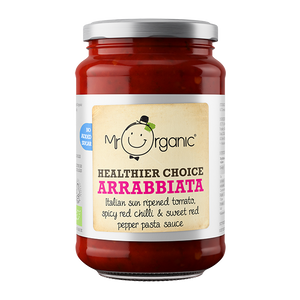 - No Added Sugar
– Reduced Salt
– 1 of Your 5 a Day
– Organic & Natural
– Vegan & Vegetarian
– Gluten Free
– Produced in Italy
– BPA Free Packaging
This delicious Authentic Italian Arrabbiata pasta sauce is crafted in Italy by our chef Andrea with an aspiration to offer a Healthier Choice sauce with less salt, no added sugar and full taste. Made from our own sun-ripened tomatoes, sweet red peppers and spicy chilli.
The sauces are made at their own sustainable production base next to their farms in Italy  Tomatoes are always packed within a few hours of harvest, keeping their flavour and freshness fully intact.
Storage: Once opened keep refrigerated and eat within 72 hours
Ingredients: Tomatoes (87%), red pepper (4.9%), onions, garlic, parsley, extra-virgin olive oil, sea salt, red chilli (0.3 %), basil
| Typical values | Per 100g | Per 87.5g serving | RI |
| --- | --- | --- | --- |
| Energy | 171kJ 150kcal | 41kJ 36kcal | 1.8% |
| Fat | 0.9 g | 0.8 g | 1% |
| of which saturates | 0.1 g | 0.09 g | 0.4% |
| Carbohydrate | 5.7 g | 5.0 g | 1.8% |
| of which sugars | 5.5 g | 4.8 g | 5.4% |
| Fibre | 1.5g | 1.3 g | 5.2% |
| Protein | 1.7 g | 1.48 g | 3% |
| Salt | 0.4 g | 0.35 g | 5.8% |
SPEND £25 AND SAVE 25 TREES