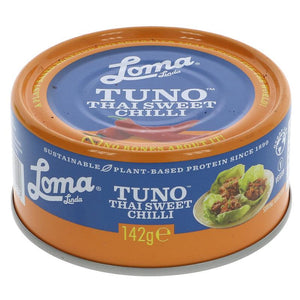 Made with plant-based protein TUNO offers the light, flaky texture of tuna, but is completely seafood-free, vegan, gluten free and high in protein.
This product is Gluten-free and is Vegan.
Ingredients: for allergens see ingredients in bold
Textured soya protein (50%), water, sugar, onion, red chilli (3%), sunflower oil, tomato paste, salt, flavourings, chilli powder, colour (paprika extract).
Nutritional Information:
Typical composition per 100g
....energy kJ..................... 477 kJ
....energy kCal................. 114 kCal
....protein.......................... 10.10g
....carbohydrates............ 15.50g
........of which sugars..... 9.30g
....fat................................... 0.40g
........of which saturates. 0.10g
....fibre............................... 3.80g
....sodium.......................... 0.480g
....salt................................. 1.2g
SPEND £25 AND SAVE 25 TREES