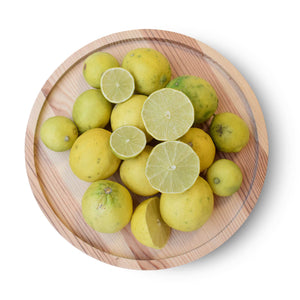 *typically a lime will weigh 50g so 1 = 2 x limes
Our limes are currently from Mexico and are Fairtrade.
Sometime our limes are from Peru (shown in image). They are tart but not as bitter as limes from other countries. They have a broader and more balanced flavor. Their rind is also not as thick and they vary from green to yellowish in external color. In Peru these are called limón sutil which means subtle lime.
Limes are yellow when they are fully ripe and develop sugars that make them delicious at this stage.   Please don t be alarmed if your limes are yellow.  
If for whatever reason you are not happy with your purchase please let us know when you receive your order.
SPEND £25 AND SAVE 25 TREES