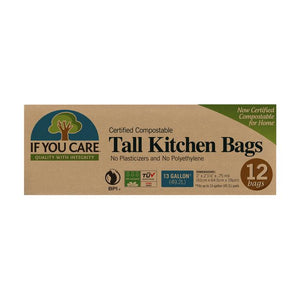 Reduce the amount of methane gas produced by your waste by using these compostable bags to collect your kitchen scraps and put it straight into the compost bin, meaning it wont be dumped in landfill where it releases methane gas and contributes to global warming. The potato starch used to make these bags comes from starch potatoes, which are grown specifically for starch production, which contain more amylopectin than corn, making a stronger bag. To produce the same amount of starch from these potatoes as from corn requires 40% less land and no extra water as potatoes need only natural rainfall.

Pack of 12 bags, size: Approx. 61cm x 64.5cm x 19cm.

Blended with compostable polymer and without plasticizers or polyethylene.
Store in a cool dry place out of direct sunlight.
SPEND £25 AND SAVE 25 TREES