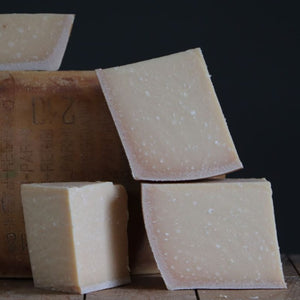 Supplied by local cheesemonger IJ Mellis, hand cut and wrapped in wax paper.
Classic hard Italian cheese that is aged for 30 months. With salt crystals and crumbly texture, this cheese is ideal for shaving over dishes and pairs best with rich meats and sauces.
Average weight is 200g.  Please select quantity 2 for one portion.
Store below 5 degrees C and keep well wrapped.
Typically this cheese will have at least 10-14 days shelf life.
SPEND £25 AND SAVE 25 TREES