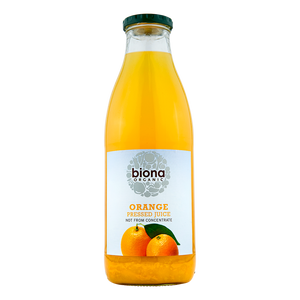 Biona Organic Orange Juice is pressed from succulent, juicy, organic oranges. With no fruit concentrate, added sugars or preservatives, you can be sure you receive more of the juicy fruits' natural vitamin C and flavour.
Biona Orange Juice is delicious served as a classic accompaniment to your morning oats, toast or as a refreshing pick me up at any time of the day. A dash or two also works well in smoothies for an extra zesty hit and in orange flavoured baking.
Be sure to shake well before pouring and once opened, keep refrigerated and consume within 5 days.
Ingredients
 Orange Juice*
 * = Certified Organic Ingredients
SPEND £25 AND SAVE 25 TREES