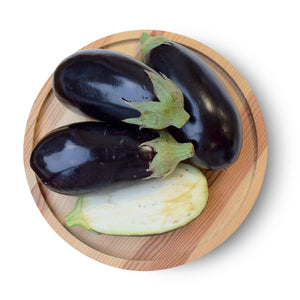 Aubergines vary in size so we charge per 100g.  
Our Aubergines are from Spain.   They should have glossy, dark purple skins but seasonally you may find a little scarring.    They are available all year but at their best from July to September.
Aubergines are a good source of fibre, are low in fat and GI and contain some essential vitamins and minerals. 
If for whatever reason you are not happy with your product please let us know when you receive your order.
SPEND £25 AND SAVE 25 TREES