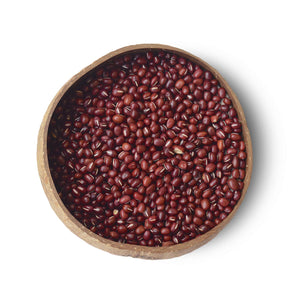 The adzuki bean, or red mung bean is popular in Asian cooking. It as a sweet nutty flavour which also makes it ideal for adding to cakes and desserts.
They can also be cooked and added to salads and make a good stuffing or dipping paste.  
High in protein, vitamins and minerals.
HOW TO COOK
They need soaking for several hours before cooking, preferably overnight. Add a teaspoonful of bicarbonate of soda to speed things up. An even quicker method is to bring them to the boil in a pan then turn the heat off and soak them for about an hour covered.
Always discard the soaking water, rinse and cook in fresh water without any salt (which toughens the skins). 
SPEND £25 AND SAVE 25 TREES