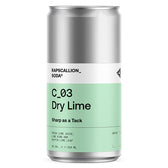 Bitter, sharp with a full bodied finish.
38 CALORIES PER CAN
INGREDIENTS_
Candied lime rind, fresh lime juice, kaffir lime leaf, vitamin C, organic raw cane sugar.
PAIRING_
Created for an older palate, bitter and light for a tonic drinker and bright for a white spirit. Designed for a hot day.
SPEND £25 AND SAVE 25 TREES