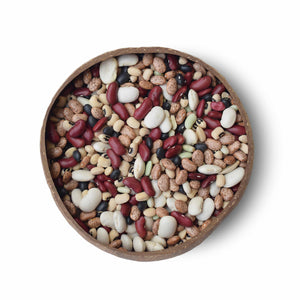 Ingredients: Pinto Beans, Red Kidney Beans, Butter Beans, Blackeye Beans, Black Turtle Beans, Flageolet Beans.  
Allergens: None.  
May contain: Celery, Eggs, Gluten, Milk, Mustard, Nuts, Sesame, Soya, Sulphites, Lupin.

RECOMMENDATION OF THE WEEK RECIPE
My favourite way to cook is Mexican style. So kind of like refried beans but with much more texture from the different sized beans.

Soak about 300g overnight and then rinse.
Slice a red onion and a pepper and saute in oil until soft. Add chopped garlic clove and the following spices

Ground cumin 2tsp
Smoked paprika 2tsp
Ground coriander 1tsp
Cinnamon 1tsp
A pinch of dried chilli

Add tbsp tomato puree, mix together and cook for a couple of minutes. Add to pan or slow cooker with the beans
Add tin of tomatoes, 1litre of veg stock and bring to the boil.

Cook on low for 5 hours or longer if you like the beans to break down more.

Great as a burrito, or for breakfast with a poached egg.


SPEND £25 AND SAVE 25 TREES