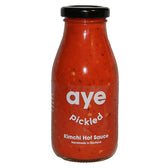 A handmade, smoky hot sauce, blended with fermented kimchi to create an outstanding flavour. Possibly the best hot sauce you'll ever try – add it to tacos, mix it through scrambled eggs, serve with fried chicken or dunk your pizza crusts in it. The possibilities are endless…

"A life changing revelation. It's so epic, I might even name my first born after it!" – a delighted customer.
Scottish Retail Food and Drink Awards Gold Winner. 
Great Taste Awards 2021 2 Star Winner. 
Ingredients: Red Chilli, Chinese Leaves, Gochugaru, Onion, Water, Mooli, Salt, Carrot, Spring Onion, Chives, Vegan "fish" sauce (water, dried shiitake mushroom, GF soy sauce), Garlic Puree, Root Ginger, Sugar, Glutinous Rice Flour (GF).
Allergens in bold. Vegan Friendly.
SPEND £25 AND SAVE 25 TREES