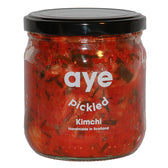 This traditional, naturally fermented, kimchi is bursting with flavour and goodness. It goes great with eggs, avocado, tofu, rice dishes, meats and cheeses. Or do it like we do and have it on the side of EVERYTHING!

"The best kimchi I've ever tasted. Excellent flavour, heat and colour. And it's vegan!" – a very happy customer.
Great Taste Awards 2021 2 Star Winner. 
Ingredients: Chinese Leaves, Gochugaru, Onion, Water, Mooli, Salt, Carrot, Spring Onion, Chives, Vegan "fish" sauce (water, dried shiitake mushroom, GF soy sauce), Garlic Puree, Root Ginger, Sugar, Glutinous Rice Flour (GF).
Allergens in bold.
Fermented and Unpasteurised. Vegan Friendly.
Always keep refrigerated. This Kimchi is alive! You may experience bubbling, fizzing or pressure in the jar, this is normal.
SPEND £25 AND SAVE 25 TREES