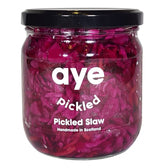 This pickled version is sweet and crunchy. It tastes great with cheese, BBQ meat or piled on top of a big baked potato. We suggest you remove it from the brine and mix it with a little Dijon mustard and olive oil to serve.

"Can't. Stop. Eating. This. It really does make everything taste better" – a hungry customer
*please note we have recently updated our recipe to use red cabbage, therefore product will differ from image*
Ingredients: Cabbage, Vinegar, Carrot, Sugar, Salt, Yellow Mustard Seeds, Celery Seeds, Black Peppercorns.
Allergens in bold. Vegan Friendly. 
380g.
SPEND £25 AND SAVE 25 TREES