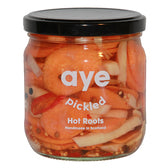 These root veggies have had a magical makeover! They're sweet, crunchy and hot, but not hot-hot. They are perfectly suited to Vietnamese Banh Mi but are also great served with steamed rice, grilled meat, or in a salad.

"Who knew carrots could taste so good?! – my absolute favourite" – a very lovely customer
Ingredients: Vinegar, Carrots, Mooli, Sugar, Fennel, Red Chilli, Salt, Yellow Mustard Seeds, Coriander Seeds, Black Peppercorns.
Allergens in bold. Vegan Friendly.
SPEND £25 AND SAVE 25 TREES