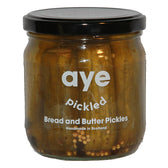 These pickled cucumbers are crunchy, sweet, salty and sour. It's a winning combination that they've actually won awards for! Serve with burgers and bagels, add them to charcuterie plates and cheese platters, or just eat them straight out the jar (we won't judge).

"I'm a big pickle nerd and these are easily the nicest I've ever had" – a very satisfied customer.
Scotland's Specialty Food Show 2019 Best Product Award: Gold
Ingredients: Cucumber, Vinegar, Sugar, Salt, Yellow Mustard Seeds, Dill Seeds, Black Peppercorns, Celery Seeds, curry powder.
Allergens in bold. Vegan Friendly.  
SPEND £25 AND SAVE 25 TREES